Ranking the World's Richest Poker Players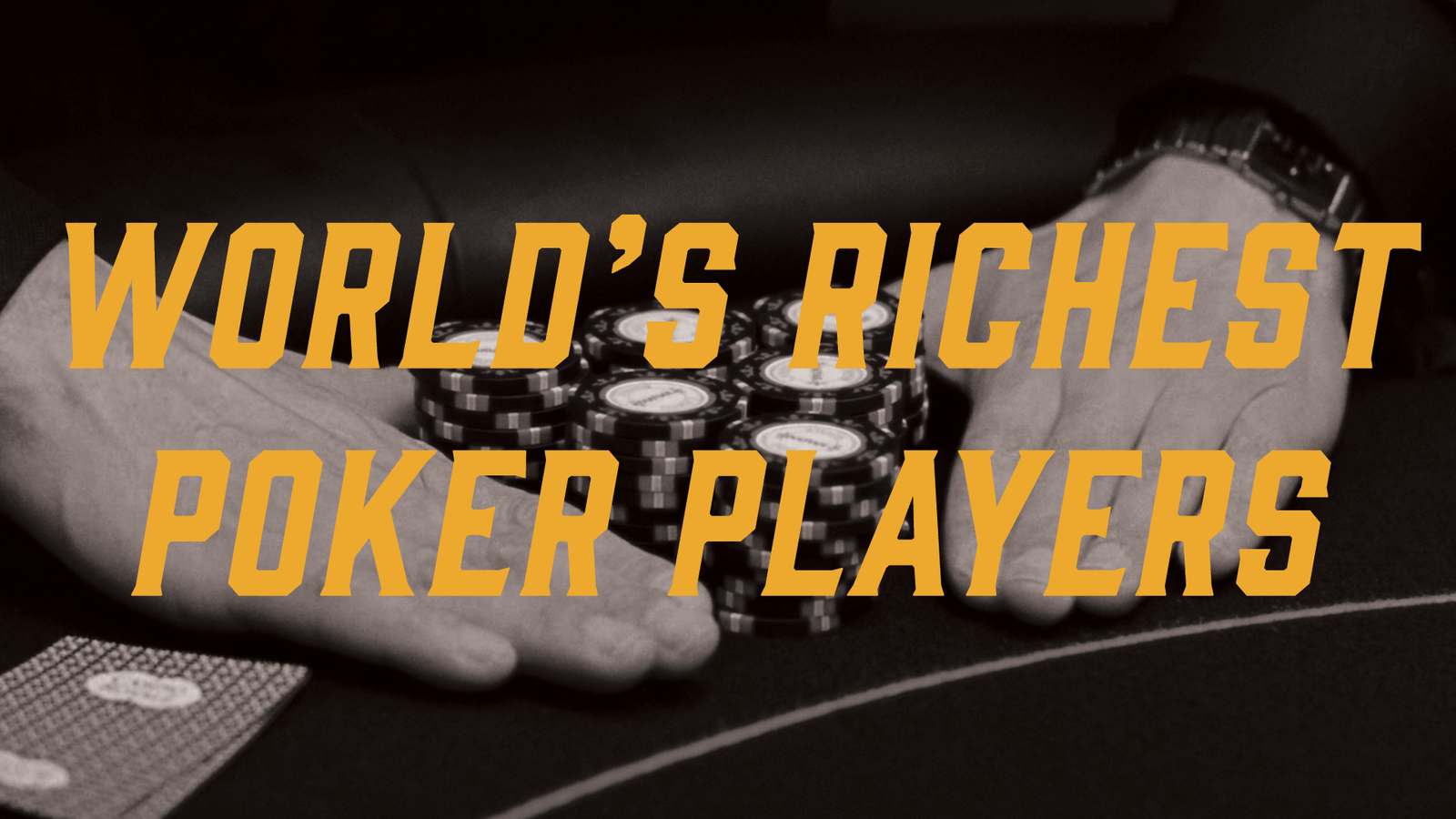 Poker, a game of skill, strategy, and calculated risk-taking, has produced a league of players who have not only mastered the game but also amassed vast fortunes through their card-playing prowess. From intense tournament victories to high-stakes cash games, these players have navigated the competitive world of poker to secure their positions as some of the richest individuals in the game. 
Let's dig deeper into the lives and successes of the top ten wealthiest poker players, showcasing their achievements and contributions to the poker world.
1. Dan Bilzerian – Poker, Wealth, and Controversy
Total Earnings: $200 Million
Dan Bilzerian, a polarizing figure in the poker world, claims the top spot as the richest poker player. While his precise poker earnings are subject to speculation, Bilzerian's extravagant lifestyle and social media presence have contributed to his immense wealth. His claims of significant poker winnings are accompanied by a diverse portfolio of business ventures and trust fund inheritance. Despite controversies and legal entanglements, Bilzerian remains an enigmatic force in the world of poker.
2. Phil Ivey – The Poker Virtuoso
Total Earnings: Over $100 Million
Phil Ivey, hailed as one of the greatest poker players in history, boasts an impressive ten WSOP bracelets. Ivey's dominance is evident in his deep runs and final table appearances, including a 7th place finish in the Main Event. His prowess extends to online poker and high-stakes cash games, where his strategic acumen propelled him to victory against Texan billionaire Andy Beal. Ivey's achievements have solidified his legacy as a true virtuoso of the game.
3. Sam Farha – From Main Event Finalist to Omaha Maestro
Total Earnings: $100 Million
Sam Farha gained recognition as the runner-up in the 2003 WSOP Main Event against Chris Moneymaker. Farha's prowess extends beyond tournaments, as he excels in high-stakes Omaha cash games. His diverse earnings stem from business ventures, appearances in media, and authoring books, underscoring his multifaceted approach to wealth accumulation.
4. Chris Ferguson – Controversy and Competence
Total Earnings: $80 Million
Chris Ferguson's journey to wealth is marred by controversy stemming from his association with the Full Tilt Poker Ponzi scheme. Despite these allegations, Ferguson's poker prowess cannot be ignored. A WSOP Main Event victory in 2000 and consistent money finishes in WSOP events contributed to his earnings of nearly $7 million. While his reputation remains tarnished, Ferguson's skills at the poker table are a testament to his capabilities.
5. Doyle Brunson – A Living Poker Legend
Total Earnings: $75 Million
Doyle Brunson, a living legend in the poker world, has etched his name in history with ten WSOP bracelets and two Main Event victories in 1976 and 1977. A fixture in high-stakes cash games, Brunson's influence extends beyond tournament play. While his exact earnings from cash games remain undisclosed, his tournament winnings exceed $6.1 million. Moreover, his contributions to poker strategy through his acclaimed book "Super System" solidify his status as a respected authority in the game.
6. Bryn Kenney – The Quiet Contender
Total Earnings: $56 Million
Bryn Kenney, a relatively less heralded name on the list, commands attention with his remarkable tournament earnings exceeding $55 million. Despite claiming only one WSOP bracelet, Kenney's consistency in cashing events highlights his skill. Notably, Kenney clinched the largest prize ever awarded in a poker tournament, securing over $20.5 million at the 2019 Triton Million charity event. A strategic deal with the chip leader enabled Kenney to secure this record-breaking win, further underscoring his tactical prowess.
7. Daniel Negreanu – The Poker Phenomenon
Total Earnings: $50 Million
Daniel Negreanu, fondly dubbed "Kid Poker," occupies a significant position in the world of poker. Renowned for his charismatic personality, Negreanu boasts an impressive collection of six WSOP bracelets, the distinction of being named WSOP Player of the Year twice, and an induction into the Poker Hall of Fame. His career earnings of nearly $42 million reflect not only his tournament successes but also lucrative sponsorship deals, most notably as the face of PokerStars. While his partnership with PokerStars concluded in 2019, Negreanu's ambassadorial role with GGPoker continues to solidify his legacy.
8. Justin Bonomo – Master of the Live and Online Arena
Total Earnings: $49 Million
Justin Bonomo emerges as a force to be reckoned with in both live and online poker domains. His formidable skills have earned him three WSOP bracelets and a staggering 55 cashes at WSOP events. Bonomo's prowess extends to the virtual realm, where he secured victory in significant online events, including the Super High Roller Bowl Online in 2020. His claim to fame, however, rests on his triumph in the 2018 "Big One for One Drop" tournament, which propelled him to the status of the all-time live tournament money winner.
9. Tony G – Poker, Politics, and Profits
Total Earnings: $36 Million
A unique blend of poker prowess and entrepreneurial acumen characterizes Antanas Guoga, better known as Tony G. Beyond his exploits at the poker table, Tony G is a prominent politician in the European Parliament and a successful businessman. While he has not clinched a WSOP bracelet, his remarkable achievement lies in consistently cashing in WSOP events, attesting to his consistent performance. Tony G's multifaceted career extends to his role as the CEO of Cypherpunk Holdings, an investment company listed on the Canadian Securities Exchange.
10. Antonio Esfandiari – The Magician of Poker
Total Earnings: $27 Million
Antonio Esfandiari, renowned as "The Magician," captures the 10th spot on the list of the world's richest poker players. With a background in magic, Esfandiari seamlessly transitioned his skills to the poker table, becoming a prominent figure in the poker circuit. His illustrious career boasts three World Series of Poker (WSOP) bracelets and three World Poker Tour (WPT) titles, with a significant milestone reached in 2012 when he triumphed in the "Big One for One Drop" tournament, securing an astounding $18,346,673 – at the time, the largest live poker prize ever won. Although his record-setting earnings were later surpassed, Esfandiari remains an iconic presence in the poker community.
The Bottomline
So, the world's richest poker players have not only demonstrated exceptional skill at the poker table but have also harnessed their success to diversify their wealth through various endeavors. Their contributions to the poker landscape, whether through tournament victories, cash game mastery, or strategic insights, continue to shape the game's evolution and capture the imagination of enthusiasts worldwide.
---